D.I.E.T Confusion:
The Bad and the Good...
| | |
| --- | --- |
| Assignments 49 through 54 | |
What ever happened to the grapefruit diet?

Who actively adheres to the good advice about chlorophyll? Google that, cousin. Time, patience and space herein limited to rational folk.

Who follows TV pitches advising "eat all you want" as long as you buy seven weeks of frozen dinners?

Are Tape Worm Diets still available via overnight express mail? Are they legal? Google has answers.

What ever happened to the Atkins diet author?
Upfront, Richard Simmons reminds audiences

| | |
| --- | --- |
| | the first three letters in diet spell DIE... he once reassured me that I could eat anything I wanted, provided I worked it off... with exercise, good advice for a food writer. Now you know why I tap into the Simmons exercise guides for this important study course. |
Martha Filipic is a reasoned writer for all

| | |
| --- | --- |
| | things diet and other nutritional informationals published for and by The Ohio State University extension service. Of the endless reams of copy floating around about the noted Mediterranean-style diet, her copy below credits her primary source at OSU as well as updated clinical research on the nation's most-used diet. |
Lastly, Mr. Koppel, my favorite waiter at

| | |
| --- | --- |
| | Sardi's, New York City, more than half a century ago, gave me lasting advice when it came to ordering the menu-listed steak tartare. "You don't want that," he advised. When I asked why, he leaned a bit closer and whispered, "raw beef... full of worms... same for the liver tartare." |
The freebie OSU Chow Line...
writing style noteworthy:
Ms. Filipic: I have heard a lot of good things about adopting a Mediterranean-style diet over the years. I don't want to make a drastic change, but what can I do to start transitioning to a diet that's more in line with what they recommend?
Basically, a Mediterranean-style diet has less meat but more fish and seafood, more plant-based foods, and more monounsaturated fats than what might be called an "American-style" diet.
According to MedlinePlus, a web-based service of the National Institutes of Health (http://www.MedlinePlus.gov), a Mediterranean diet is based on meals that are prepared and seasoned simply, without sauces or gravies, but instead focus on:
Plant-based foods, with just a bit of meat or chicken if any at all.
Larger servings of whole grains, fresh fruits and vegetables, and legumes. Small portions of nuts.
Foods that naturally contain high amounts of fiber, antioxidants and other nutrients.
Plenty of fish and other seafood that are rich in omega-3 fats.
Olive oil, a healthy, monounsaturated fat, as the main source of fat used to flavor and prepare foods.
A Mediterranean-style diet includes very little red meat, sweets or other desserts, eggs and butter.
As you adopt a more Mediterranean-style diet, be sure to keep calories in balance -- don't just add high-calorie nuts and olive oil to your already existing food pattern.
Recent studies indicate the benefits of the Mediterranean diet might be even greater than previously thought. For example, a study of 1,000 patients, published in the American Journal of Clinical Nutrition, showed that following such a diet, particularly eating more vegetables, salad and nuts, cut the risk of a heart-related event in people who had already been hospitalized for heart attack or severe chest pain.
Another study, presented at the 2010 Experimental Biology meeting in April, followed 4,000 older adults for 15 years.Researchers found that participants who more closely followed a Mediterranean diet were less likely to suffer from decline in their cognitive skills. The Mayo Clinic offers detailed information about following a Mediterranean-style diet on its website. Go to http://www.mayoclinic.com/health/mediterranean-diet/cl00011.

Chow Line is a service of Ohio State University Extension and the Ohio Agricultural Research and Development Center. Send questions to Chow Line, c/o Martha Filipic, 2021 Coffey Rd, Columbus, OH, 43210-1044, or filipic.3@cfaes.osu.edu.
Editor: This column was reviewed by Julie Kennel, registered dietitian and program specialist for Ohio State University Extension in the Department of Human Nutrition, in the College of Education and Human Ecology.
| | |
| --- | --- |
| Richard Simmons' Never-Say-Diet Cookbook | |
As food writers are wont to do, this is another text best opened first at the index. There are 10 pages of vegetables, meats, condiments, salads, nuts, shell and fin seafood, spices, cheeses, desserts, juices, fruits, melons, breads, even candies such as Tootsie Rolls. Oh, not the candy. He's referring to his buns as tootsy singular, plural tootsies, when rolling his left bun then the right bun... alternating rolls... well, visualize. Cousin, this is an exercise book, recipes inserted throughout.

Note at this stage of research, Simmons' oft-used reminder has yet to appear: The first three letters in diet are d-i-e- and do not have an index mention in that form. He seeks with this book as the club... to "eradicate the word diet from the vocabulary of the world."

Simmons intends to make the world aware of his word that will replace diet: Live-It.

Yes, this is very much Simmons' exercise book. But, it is a collection of personal case histories. Real people. Start at the beginning: Karen Warne. She intends to shape up from her highest weight, 275 pounds. At publishing time she was down to 249. Her goal: 125. Her opening history: "...the least I've ever weighed is 7 pounds 6 ounces... since I was born I started gaining weight... I've been on every diet imaginable.."

Warne went on Live-It. Under her introduction is a recipe for two... stuffed zucchini. Never find seasoning instructions such as "salt and pepper to taste," For this zucchini, only "pepper to taste."

Live-It has 10 index postings; diet has one.

Let Richard explain: Say hello to Live-It... "it's the word diet I hate so much... how can you be fond of anything with the word die in it?" Tattoo that in your mind every time you see or hear anything about Richard Simmons. Also sprinkled throughout are little brights when it comes to specific foods. For example, to serve folks needing advice on certain foods... he lists as those to avoid: duck and goose. Fat. Fat. Dripping fat. He advises against organ meats with one exception, liver.

In keeping with this 12-pack header, the Bad and the Good, labors of Richard Simmons fit the latter. Good.
| | |
| --- | --- |
| Still Hungry - After All These Years | |
Richard Simmons, the Movie?

Follow the bouncing ball, the sing-along life of a Richard Simmons before there was a Richard Simmons. The public Richard Simmons is a physical fitness geek, a familiar face on television and a recognized authority when it comes to healthy food, eating for a long life. The man sells exercise videos. He writes cookbooks. But, with this book suggestion there is a different Richard Simmons persona. About his Still Hungry --- in hardback.

There isn't a recipe in this book. There are no suggested exercises. There is a movie awaiting a shooting script. This is a very personal Richard Simmons love story on paper. To fit this collection, the food theme radiates from his native New Orleans.

We open the movie story. The little Richard, known at this book stage as Dickie, is the son of show business parents. Very interesting parents. His mother, Shirley, was a fan dancer playing clubs across the nation, at times for weeks. His father, Leonard, was a professional emcee in night clubs. They fell in love when their club paths crossed, coming to rest in New Orleans. There they raised Lenny Jr, and Dickie. The movie hook? Think fan dancing. Think Gypsy Rose Lee for a time reference. Think little Dickie and Lenny in that household.

In the early stages of compiling this syllabus intended for writers interested in all aspects food and restaurants, there was a recessed thought about how to approach a selection. Move slowly if considering a food-related book of solid recipes from cover-to-cover. This syllabus is not intended to be a cookbook per se. This primary list of 96 books with links or passages flirting with food arts, the culinary appreciation of food as it relates to humankind from earth to plate, needed more than ingredient counts and measurements. As the starter kit for serious food writers, those already beyond the purchase of their first keyboard powered by a Yelp mentality, a grabber is needed. Old pen-and-pencil reporters called it a hook. Whatever the hook, it had only seconds to activate a reporter's busy mind before he puts fingers to keys.

In this compilation, one up front question is always there: Is there a movie between these pages?

Cousin, in the 300 pages of early Simmons saga, a dozen movies, but stop at page 143...Richard answering his draft board invitation for a meeting. The board needed more bodies for that deadly Viet Nam action. Richard was finishing food studies in Italy and had to fly back for his draftee interview and physical. He showed up fresh off the flight dressed appropriately for his then social level as an international student of Italian culinary arts..."Wearing my new lederhosen and a floor-length suede coat."

That draft board must have figured Uncle Sam would have trouble finding a combat unit ready to accept a GI in his favored boxers "with a beautiful scene of the Coliseum on them" (*)

About his first 50 years of family in New Orleans, they all say food. Every movie or book of fiction about New Orleans has been a boxoffice success. When the movie...Still Hungry...is optioned, only that shooting scrip will be needed by a director with a point-and-shoot cameraman.

Richard Simmons, far beyond his persona, is a good food writing story.

Savor.




(*) Today's generation needs updated GI fun since the last good draftee movie... No Time For Sergeants with Andy Griffith, circa 1958.
100 Great American Chefs Share Recipes They Cherish

Broadway Books, division of Random House
This book is suggested for writers needing to familiarize themselves with the major players in the finest restaurants in the nation, the chefs, the talents in the kitchens. Author Michael Rosen brought together 100 star chef names in 300 hard-covered pages. Rather than limit his work to creating a recipe book, Rosen lets each chef tell his story about getting into the restaurant business. Each chef story is very personal, something like taking the reader into the kitchen and telling the story of early inspirations that led to such a career. But, each chef has a favorite menu offering for his or her restaurant. Those recipes may be the intended platform for this book, but the personal autobiographies will be the attraction for beginning food writers. Approach this book as a textbook.

Sales of Cooking from the Heart were shared with the nation's preeminent antihunger agency, Share Our Strength. That group, dating from 1984 to this book's publishing date,
had distributed more than $68 million to fight hunger worldwide.
| | |
| --- | --- |
| Hungry Girl: Recipes and Survival Strategies for Guilt-Free Eating in the Real World | |
Lisa Lillien, she's just hungry...meanwhile...
Writing class will come to order.
For what this syllabus is all about, treat yourself to a
unique lesson in legit food journalism:
www.hungry-girl.com

Lisa Lillien is not a chef. She is not a nutritionist.
She is not a flack for some food company. She
is not a doctor. As she likes to explain herself
to the food world, she is just hungry. Add to that
her ability to write about food that counts with
most people --- the food she buys in a market.
As a specialized writer Ms. Lillien did come from
the media world before discovering content to fit
her select career. She's a pad-and-pencil reporter
of the old school, not a shoot-from-the-hip blogger.

Lisa Lillien shops for the food she consumes. The result
is a newsletter now being given free to more than a
million avid readers, nee fans. The girl is not peddling
Twinkies. Her newsletter started when she personally
questioned calorie counts she found on a pastry package.
To go a step beyond, she took the pastry to a lab and had
it tested. From that she reasoned others may be
interested in what the market pitches...just to meet
government guide lines. Also in her bailiwick, all those
recipes of questionable accuracy. Some folks question
her for changing measurements on a published recipe.
We do not know her response to such, but let us assume
she takes the position that Hungry Girl is her creation,
her opinion and if you want to fuss about it, well ...take a number...




Writing ethics...Lisa Lillien follows her own rules...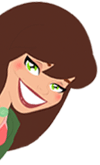 (from www.hungry-girl.com)
Food Sampling and Food Reviews/Recommendations:
Hungry Girl will often feature product reviews and recommendations in our
editorial content. None of these mentions are paid for or bartered for in any way.
Companies cannot pay to have their products mentioned in HG editorial. All
editorial content is written at the sole discretion of Hungry Girl. We do receive
food samples from many food companies (both large and small) on a regular basis.
Many of these unsolicited products are never mentioned in our editorial. In some
instances, these products are mentioned and would be regardless of how we
discovered them. Receiving free samples of food in no way influences whether
these products are reviewed favorably, unfavorably, mentioned with indifference,
or mentioned at all.
To submit samples for review, please mail them to:
Hungry Girl, 18034 Ventura Blvd., No. 503, Encino, CA 91316.
We will not confirm receipt of these samples.